Making your new restaurant successful can be a challenge. There are so many things you need to get right – from the food and the service, to the marketing and the atmosphere. But with careful planning and execution, you can make your restaurant a roaring success.
In this article, we will share nine tactics that successful restaurant owners use to bring in more customers and make more money. These marketing ideas and tactics can be a key part of growing your successful restaurant business!
1. Write articles about your restaurant and post them on food or lifestyle websites
The No. 1 factor in making a restaurant successful is attracting customers. One way to do this is by writing articles about your genre of cuisine or related restaurant industry topics and posting them on food or lifestyle websites.
There are several reasons why writing articles is a good idea. First, it helps to build your reputation as an expert in your field and increase your restaurant name recognition. Second, it can help to generate word-of-mouth marketing for your restaurant. And third, it provides you with an opportunity to showcase your culinary skills to a wider audience.
But how do you get started?
Here are a few tips: First, try writing for smaller, local websites. You can also start your own blog and then reach out to guest blogging opportunities as your following grows. If you have trouble coming up with ideas of what to write about, think about common questions customers ask you about your restaurant or dishes, and then craft an article around that.
Other topic ideas might include:
The story of why your restaurant exists, especially if your restaurant concept is new or unique.
Topics that cater to prospective guests new to the area
Behind the scenes action: for example, what goes into menu planning
No matter what approach you take, remember that customers are looking for informative and interesting articles when they scroll through a website—so make sure your content delivers!
2. Leverage your local community
One way to reach a potential customer base is to place coupons or offers in HOA mailers and community newsletters. These mailers and newsletters are distributed to a large number of people, many of whom live in the same area and are likely to be interested in your restaurant. By inviting guests through offers in these mailers, you can reach a wide audience with minimal effort.
Another way to market to the homes in the area surrounding your restaurant is through targeted direct mail. You can purchase a mailing list of homeowners in your zip code and send them postcards or flyers with information about your restaurant. This is an especially effective marketing tactic for both guests and the restaurant because it allows you to specifically target people who live near your restaurant and are more likely to visit.
3. Use a waitlist app
In today's competitive restaurant market, one of the key things that can help ensure success is having a waitlist app. Successful restaurants use waitlist apps to provide numerous benefits to both their business and their customers. One of the most important benefits is that they can help to reduce customer wait times.
Waitlist apps help to create a better customer experience overall. This is because customers will not have to waste time waiting to be seated, and they will also be able to see how long the wait will be before they arrive at the restaurant.
In addition to customer convenience, waitlist apps can help to increase table turnover rates. This is important as it can help restaurants to serve more customers and generate more revenue.
4. Start a blog
If your goal is to run a successful restaurant, you may be wondering if starting a blog is worth your time. The answer is yes! A blog can be a key part of a successful restaurant business. For one, it can improve your SEO. When you include keywords related to your restaurant on your blog, you're more likely to come up in search engine results when people are looking for a place to eat.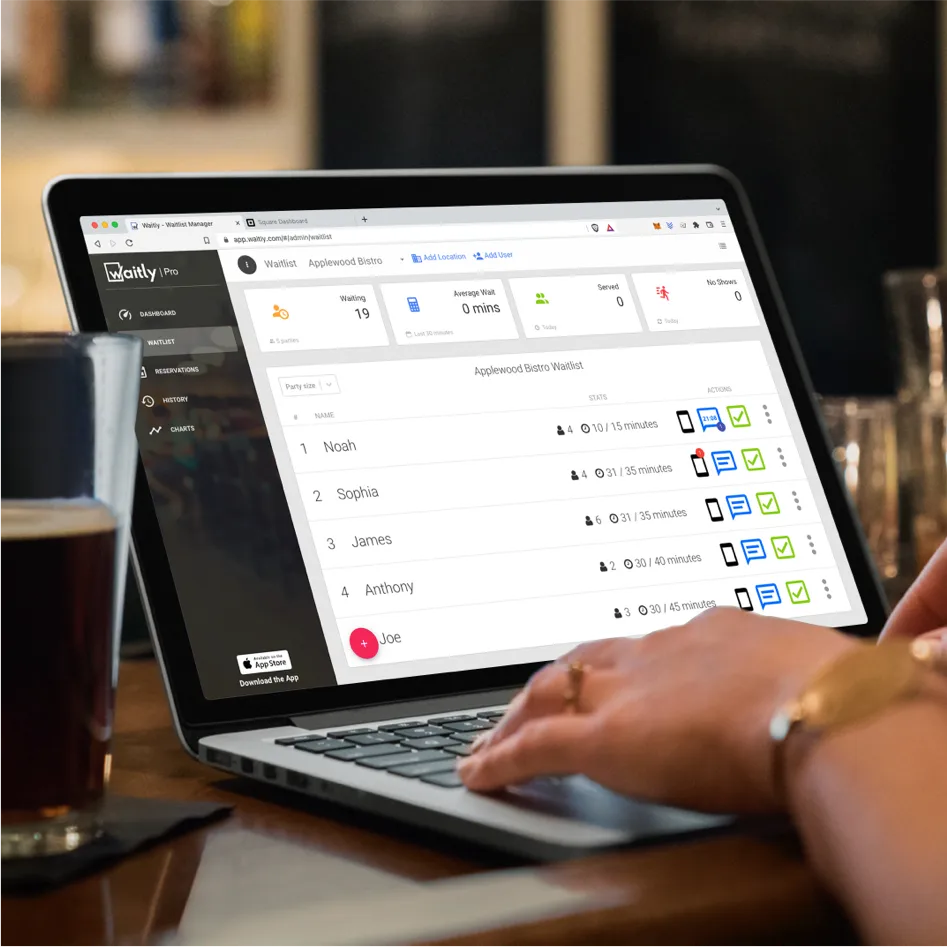 A blog is also a great way to connect with your customers and build relationships. By sharing news and updates about the restaurant, owners can keep their regulars coming back for more. You can use your blog to share information about your restaurant, cooking, food, or recipes. This will give people a behind-the-scenes look at your business and make them more likely to visit in person.
Finally, a blog can also be a valuable marketing tool. By sharing information about the food they serve, the recipes they use, and photos or stories about the restaurant, blogs can give potential customers a taste of what the restaurant has to offer.
5. Send thank-you messages to customers who write positive reviews of your restaurant
In this age of social media and online review platforms, restaurant reviews can make or break a business. A few positive reviews can help to draw in new customers, while a handful of negative reviews can be enough to drive people away.
As a result, it is important for a successful restaurant business to encourage their customers to leave positive reviews. One way to do this is by sending thank-you messages to customers who take the time to write positive reviews. This simple gesture shows that you value your customers' opinions and helps to build goodwill. In addition, thank-you messages can help to encourage customers to write more positive reviews in the future.
By taking this small step, restaurant owners can make a big difference in how their business is perceived online.
6. Give out loyalty cards
Repeat customers are essential for restaurant success. Not only do they provide a steady stream of revenue, but they also help to generate word-of-mouth marketing.
One way to encourage repeat business is to offer loyalty cards that offer discounts or free meals after a certain number of visits. This type of program can be very successful in increasing customer loyalty and boosting business.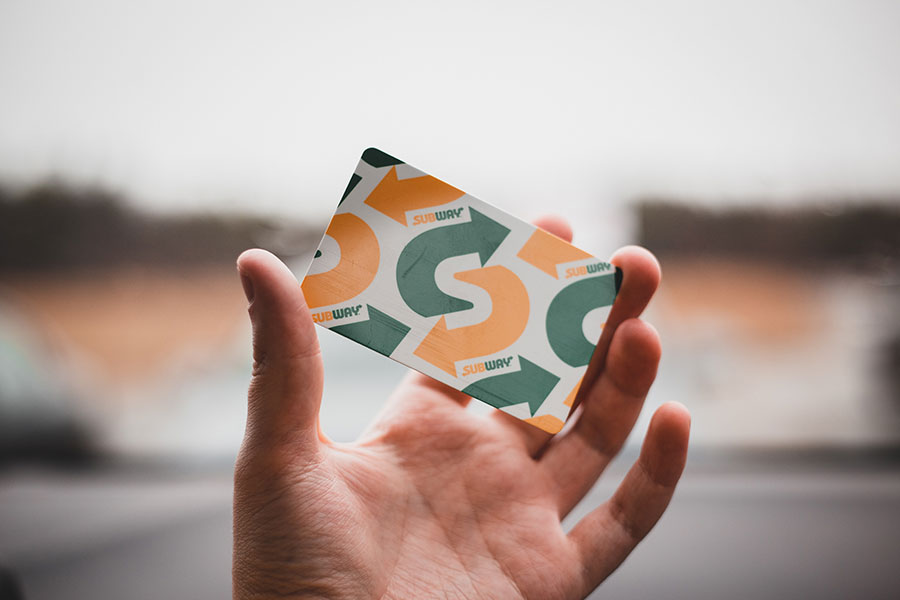 There are a few key reasons why loyalty programs like this can lead to eventual success:
They provide an incentive for customers to keep coming back.
They help to build a sense of community among customers.
They create a database of loyal customers that the restaurant can market to in the future.
Giving out loyalty cards can be a simple and inexpensive way to help a restaurant successfully market their business. By offering discounts and freebies, restaurants can encourage repeat business and build a loyal customer base. In today's competitive market, any advantage that a restaurant can get is worth considering.
7. Run promotions for customers who visit during slow periods.
Many businesses, especially restaurants, experience slow periods throughout the day or week. During these times, customers are few and far between, and revenues can drop sharply. One way to keep your restaurant consistently busy is to run promotions or offer discounts during slow periods. This can help to attract new customers and boost business during otherwise slow times. Furthermore, it can also help to build goodwill and create a loyal customer base. When customers feel like they are being rewarded for their patronage, they are more likely to return again and again.
8. Collaborate with other local businesses to promote each other
Running a successful restaurant sometimes involves collaboration. Collaborating with other local businesses can be an effective way to promote each company and reach a wider audience. For example, consider these three possibilities:
• A restaurant business could partner with a local farm to source fresh ingredients. The restaurant could then promote the farm on its menu and website, while the farm could feature the restaurant in its marketing materials. This type of collaboration would benefit both businesses by introducing each one to new customers.
• A restaurant and a catering company could collaborate by the catering company providing food for the restaurant's private events and the restaurant reciprocating by referring its clients to the catering company.
• A restaurant and a Farmers Market could collaborate by the restaurant signing a contract with the market to buy a certain amount of produce every week during peak season and in return, the market setting up a booth at the restaurant to sell their produce to customers.
The key with these types of collaborative efforts is for both businesses to identify what they have to offer that would be of value to the other business and then act on it. While collaborating doesn't guarantee success, when done correctly, collaborations can be beneficial for all parties involved.
9. Offer catering services for local events or businesses.
Adding catering services to your marketing plan can help you create a successful restaurant business by reaching new customers and generating extra income.
Here are a few tips on how to get started:
First, research local businesses and events that might need catering services. Make a list of potential clients and contact them to inquire about their catering needs.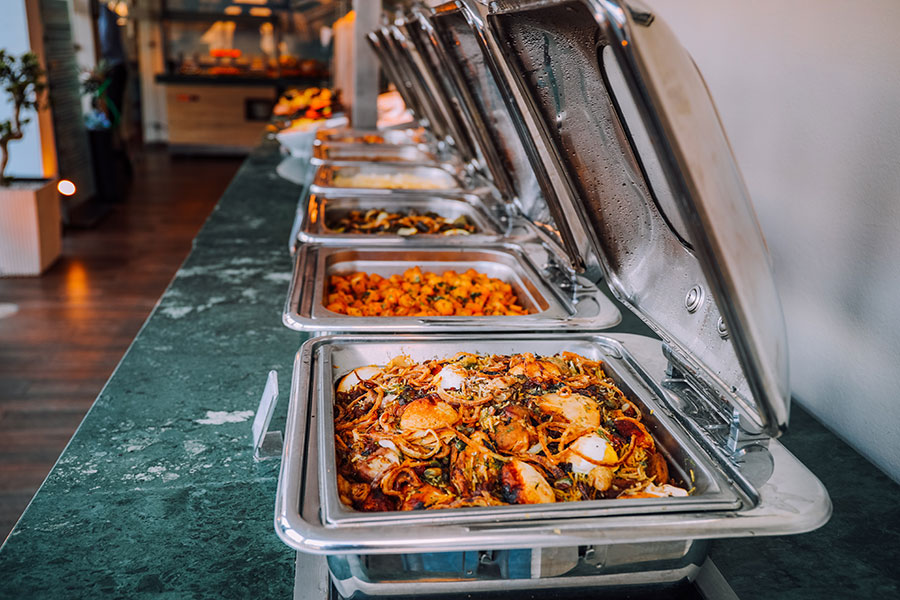 After considering food costs, put together a catering menu that highlights your restaurant's strengths. Be sure to include both food and drink options.
Finally, reach out to your network of contacts to spread the word about your new catering services. Let people know what types of events and businesses you cater to and what they can expect from your menu.
By offering catering services, you can open up new opportunities for your restaurant. So if you're looking to boost your business, don't forget to think outside the dining room!
Other tactics making your restaurant business a success might include:
Having a strong social media presence. Post pictures of menu items, happy guests, or a packed house.
Increasing guest loyalty by ensuring guests feel genuinely welcomed, valued, and part of the restaurant's success.
Using sidewalk signs or other means of capturing walk by traffic
Final Thoughts
Running promotions for customers who visit during slow periods, collaborating with other local businesses to promote each other, and using keywords in your marketing can all be successful tactics for promoting your restaurant.
In a competitive market, it is essential to use every advantage you have to attract new customers and boost business. By employing some or all of these tactics, you can give your restaurant the best chance at success.